What is SEO?
SEO or Search Engine Optimization can help you increase the number of customers that find their way to your Etsy shop by ranking your store higher in Google, Bing and Yahoo. The basics are not very difficult, but if you are targeting very competitive keywords it can get complicated.
This guide will show you everything you need to know to get started:
How to choose the best keywords for your store

Optimizing your Etsy titles and descriptions

Link building for Etsy

What else should I be doing?
Google determines the rank of a website by looking at hundreds of factors; some of the more basic include how often the keyword is mentioned on your site, your titles and links to your page.
How to choose the best keywords
Nothing is as important as picking the right words to describe your product. When picking those words, think about what your customer's will search for to find your etsy store. These words that you want to be found for are called keywords.
So how do you find the right keywords? The best free tool for your research is Google's Keyword Planner. Let's imagine your shop sells primarily knit skirts. A search in the Keyword Planner could look like this: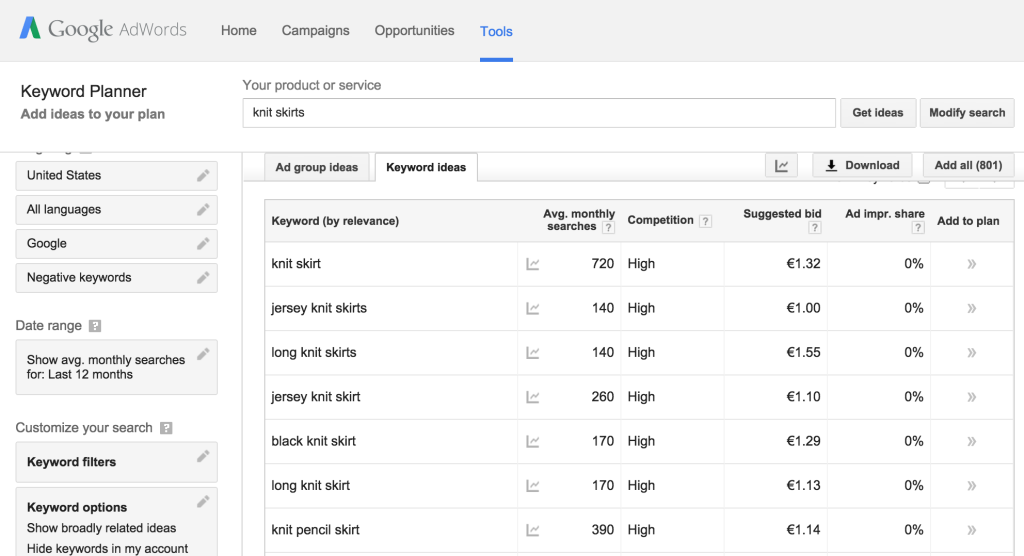 The result tells us that on average 720 people are searching for the keyword "knit skirt" and 140 for "long knit skirts". The competition for these keywords is high that means a lot of advertisers are bidding money to appear in Google's search results.
In this case, I would take a look at how strong the competition on the first page of Google is. In many cases, forum posts, tweets and question websites are indicator that it will not be extremely difficult to rank high for the keyword.
When I look for good keywords for a shops' Etsy products, I usually target keywords that have at least 500 searches a month. After you found a couple of keyword, let's get you ranking!
Optimizing your Etsy titles and descriptions
Your titles and descriptions are very important ranking factors for Google.
Item titles – Etsy Store:
The item titles are important, because they boost your on-page SEO in 3 different ways.
Google considers the page title as one of the most important ranking factors.
Your Etsy item title becomes part of the products URL, which is another ranking factor.
The title automatically becomes the alt text for your item's image. A third ranking factor.
In order to really leverage the full power of item titles, you want to add at least one of your main keywords at the beginning of your title. But make sure not too stuff your titles, always write titles for customers not for search engines.
Item Description – Etsy Store:
The item description is your opportunity to give Google what it craves most FRESH CONTENT. The more relevant content you can provide, the better. When possible, try to write at least a 250 words description for each of your products. There are no specific guidelines for the content, but make sure to mention your keyword at least at the beginning and close to the end of your description.
Etsy Shop Announcement
The Etsy Shop announcement is what your customers will see when they search for your shop on Google.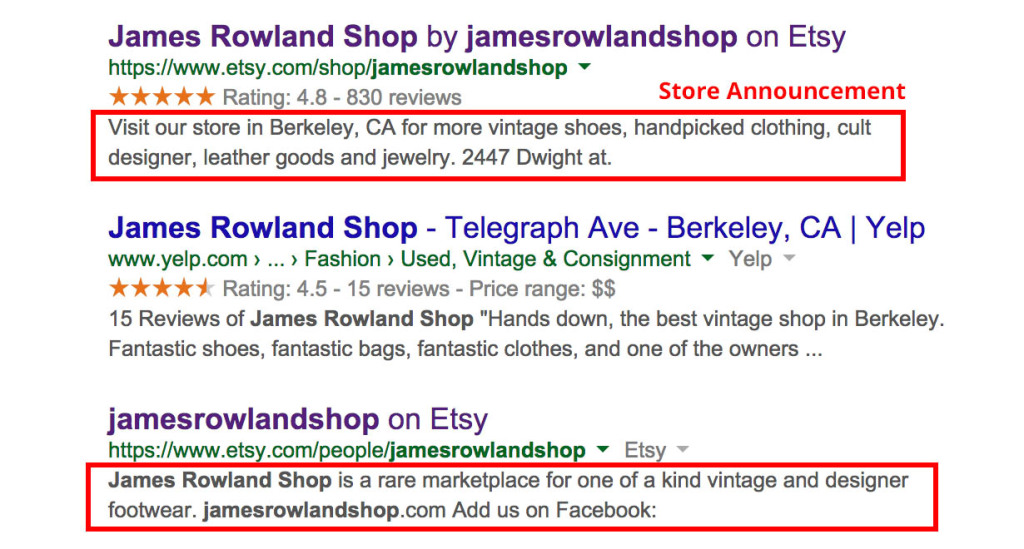 You can see that Google does not show a lot of text, so make sure to include your keyword in the beginning so it won't get cut off.
What is keyword stuffing?
Hey Tim, you told me adding my keyword as often as possible will help me rank higher. Yes and No. Using your keyword unnaturally often is called keyword stuffing and Google does not approve of this practice. If you just use your keyword as often as possible and out of context, Google will see this as an attempt to manipulate their ranking and will penalize your site. E.g. by ranking you on page 200.
Link building for Etsy
If choosing the right keywords is the most important factor in SEO, link building definitely comes in second place. A link from someone's website to your shop tells Google "Hey Google, look this must be a good shop other people are recommending it on their homepage".
Links have an extremely high value in Google's eyes and will make or break your SEO efforts. However, not every link is good for your shop. Google is really looking for links that are relevant to your content. If you have a lot of those relevant links, Google will rank your Etsy store higher, if your links are mostly unrelated the link building can have a negative impact on your ranking.
Another factor to consider when building links to your store is the link text. A link with your keyword in the link text is always stronger than a "click here" link. However, you want as many different text variations pointing to your site as possible. If all your links include your keyword, Google will see this as an unnatural link profile and might penalize your site. So definitely throw in some "click here", "website", "more info", … links.
Where can I get links for my Etsy shop?
Create links on bookmarking websites like StumbleUpon, delicious, Digg, …
Post links to your store on your own blog or ask other bloggers to link to your store
Comment on blogs where you can leave your store URL
Add your etsy shop to link directories like DirectoryJournal and Best of the Web
Add a link to your shop to your forum profiles and signatures.
Or use a paid service like Linkemperor to automatically build links to your shop.
What else should I be doing?
The factors I spoke about in this article are only a handful, SEO is a science by itself and no one has completely solved all of its mysteries. What has worked in the past will not work in the future, Google does hundreds of changes to their search algorithm every day.
Some of the trends that I have seen… Google considers social signals to become a more and more important search factor. Especially Google+ shares have proven to be a part of their ranking algorithm.
Other factors that have an important role are your shops loading time, click through rate to your store, Facebook shares, image count, bounce rate and many more.
[wpfg_text name="name" email="Name" label="Name" placeholder="Your Name…" width="210″ ][/wpfg_text][wpfg_form_captcha value="0″][wpfg_text name="email" email="Email" label="E-Mail" placeholder="Your E-mail…" validation="email" width="210″ styles="background-color:red;"][/wpfg_text][wpfg_text name="store" email="Shop URL" label="Shop URL" placeholder="Your Etsy Shop URL…" width="210″][/wpfg_text][wpfg_form_button]Rank my shop![/wpfg_form_button]
Update: All spots have been filled. Please use the contact form if you want to reach out about my Etsy SEO services.
For mobile users, I'm currently offering my SEO services again. Which include a full SEO audit of your etsy shop, keyword tracking, content & image optimization, etsy store link building and sending social signals. There are only 12/15 spots left for $25/month if you want to have your SEO done completely hands off, send me an email via my contact form. I'll get back to you via 24 hours with more information.
If you want to learn more about SEO here are some very useful resources:
Moz' Beginners SEO Guide, is definitely one of the best resources I can think of for someone who wants to learn SEO: http://moz.com/beginners-guide-to-seo
Backlinko offers a pretty up-2-date overview of many of Google's ranking factors: http://backlinko.com/google-ranking-factors
Let me know your experience with Etsy and SEO. Share your secrets in the comments below and feel free to ask questions.